---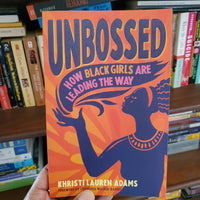 Black girls are leading, organizing, advocating, and creating. They are starting nonprofits. Building political coalitions. Promoting diverse literature. Fighting cancer. Improving water quality. Working to prevent gun violence.
Are we ready to learn from their leadership?
"Black women are literally at the helm of every movement," says Tyah-Amoy Roberts, an activist and a survivor of the Parkland, Florida, school shooting. ""Every push for social justice. Every push for social change. We need to take our stories into our own hands."" In Unbossed, they do.
From Khristi Lauren Adams, author of the celebrated Parable of the Brown Girl, comes Unbossed, a hopeful and riveting inquiry into the lives of eight young Black women who are agitating for change and imagining a better world. Offering practical lessons in leadership, resilience, empathy, and tenacity from a group of young leaders of color who are often neglected, Unbossed includes profiles of Jaychele Nicole Schenck, Ssanyu Lukoma, Tyah-Amoy Roberts, Grace Callwood, Hannah Lucas, Amara Ifeji, Stephanie Younger, and Kynnedy Smith.
These are the young Black women we will be reading about decades from now. Like their foremothers in earlier freedom movements, Black girls are transformational leaders. They are pacesetters, strategic thinkers, visionaries, mobilizers, activists, and more. Their stories may often be overlooked. But Black girls are leading the way.
Hardcover

0.63" H x 8.43" L x 5.43" W

192 pages

Release date March 8, 2022