---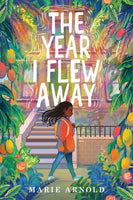 In this magical middle-grade novel, ten-year-old Gabrielle finds out that America isn't the perfect place she imagined when she moves from Haiti to Brooklyn. With the help of a clever witch, Gabrielle becomes the perfect American -- but will she lose herself in the process? 
It's 1985 and ten-year-old Gabrielle is excited to be moving from Haiti to America. Unfortunately, her parents won't be able to join her yet and she'll be living in a place called Brooklyn, New York, with relatives she has never met. She promises her parents that she will behave, but life proves to be difficult in the United States, from learning the language to always feeling like she doesn't fit in to being bullied. So when a witch offers her a chance to speak English perfectly and be "American," she makes the deal. But soon she realizes how much she has given up by trying to fit in and, along with her two new friends (one of them a talking rat), takes on the witch in an epic battle to try to reverse the spell.
Gabrielle is a funny and engaging heroine you won't soon forget in this sweet and lyrical novel that's perfect for fans of Hurricane Child and Front Desk.
Hardcover
Ages 8-12
1.1" H x 8.4" L x 5.5" W 
256 pages