---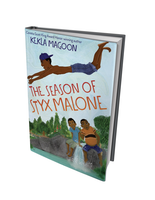 A CORETTA SCOTT KING HONOR BOOK AND THE WINNER OF THE BOSTON GLOBE HORN BOOK AWARD FOR FICTION!

"Extraordinary friendships . . . extraordinary storytelling." --Rita Williams-Garcia, Newbery Honor and Coretta Scott King Award-Winning author of One Crazy Summer

Meet Caleb and Bobby Gene, two brothers embarking on a madcap, heartwarming, one-thing-leads-to-another adventure in which friendships are forged, loyalties are tested . . . and miracles just might happen.

Caleb Franklin and his big brother Bobby Gene are excited to have adventures in the woods behind their house. But Caleb dreams of venturing beyond their ordinary small town.

Then Caleb and Bobby Gene meet new neighbor Styx Malone. Styx is sixteen and oozes cool. Styx promises the brothers that together, the three of them can pull off the Great Escalator Trade--exchanging one small thing for something better until they achieve their wildest dream. But as the trades get bigger, the brothers soon find themselves in over their heads. Styx has secrets--secrets so big they could ruin everything.
Ages 

8 - 12 years

304 pages

5.1 x 0.7 x 7.6 inches