---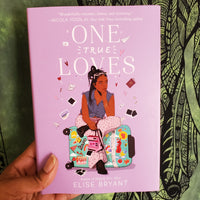 From the author of Happily Ever Afters comes another irresistible YA romantic comedy full of self-discovery and Black love--and a dreamy European cruise. Perfect for fans of Nicola Yoon and Jenny Han, with crossover appeal for readers of Jasmine Guillory and Talia Hibbert romances.
Lenore Bennett has always been a force. A star artist and style icon at her high school, she's a master in the subtle art of not giving a . . . well, you know what. But now that graduation is here, she's a little less sure.
She's heading to NYU in the fall with a scarlet U (for "undeclared") written across her chest. Her parents always remind her that Black kids don't have the luxury of figuring it out as they go--they have to be 110 percent prepared. But it's a lot of pressure to be her ancestors' wildest dreams when Lenore's not even sure what her dreams are yet.
When her family embarks on a post-graduation Mediterranean cruise, her friend Tessa is sure Lenore's in for a whirlwind romance. But Lenore knows that doesn't happen to girls like her.
Then she meets Alex Lee. After their parents bond over the Cupid Shuffle, she ends up stuck with him for the remainder of the cruise. He's a hopeless romantic and a golden boy with a ten-year plan. In short, he's irritating as hell.
But as they get to know each other during the picturesque stops across Europe, Alex may be able to help Lenore find something else she's been looking for, even if she doesn't want to admit it to herself: love.
Hardcover
Ages 13 - 17

1.2" H x 8.1" L x 5.4" W

320 pages