---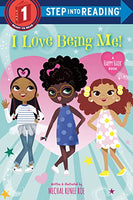 Celebrate diversity and natural Black hair with this bright, joyful level 1 Step Into Reading book that will have girls everywhere repeating the book's chorus: I love being me!
Girls will love seeing strong, happy reflections of themselves in this vibrant, rhyming, Step 1 reader about the joy of being a girl. Full of positive affirmations and bright scenes of girls enjoying their favorite activities, such as reading, soccer, cooking, swimming, and gardening, this easy reader promotes girls' self-esteem and smarts.

Step 1 Readers feature big type and easy words for children who know the alphabet and are eager to begin reading. Rhyme and rhythmic text paired with picture clues help children decode the story.

Paperback
Ages 4-6

0.2" H x 8.8" L x 5.8" W 

32 pages