---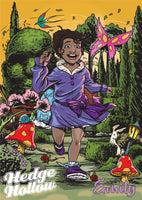 Hedge Hollow print by Tim Harris. 8" x 10" glossy print.
Beware the faces of the dark ghoul,
For death will visit upon Hedge Hollow
A trio of allies and a righteous tool.
Held safe above, where none dare follow,
The pure of heart, for life, will duel
And the evil darkness, the light will swallow.
Enter the world of Hedge Hollow... Bella stumbles upon this fantastical world and is told that she is the only one that can save them.

Creator: Sonnie Robin
Adapted by: Marcus Roberts
Artist: Phill R Williams Jr.