---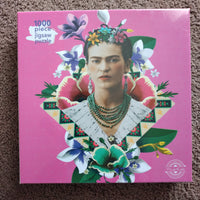 Part of an exciting series of sturdy, square-box 1000-piece jigsaw puzzles from Flame Tree, featuring powerful and popular works of art. This new jigsaw will satisfy your need for a challenge, featuring Frida Kahlo Pink. One of the most iconic and important artists of the 20th century, Frida Kahlo's bold, carefully crafted visual identity is in many respects an extension of her art, celebrating her Mexican heritage and countercultural ideals while defying traditional notions of female beauty. Striking and bursting with colour, this portrait captures Kahlo's vibrant, flamboyant sense of style, as well as her steely poise. Her direct, unflinching gaze conveys her strength and tenacity to the viewer, underlining why her image remains as inspiring today as ever.

This 1000 piece jigsaw is intended for adults and children over 13 years. Not suitable for children under 3 years due to small parts.
Now includes an A4 poster for reference.
1.9" H x 10.0" L x 10.1" W