---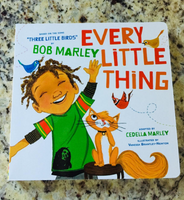 A beautiful book that brings Bob Marley's beloved song to life for a new generation
Every family will relate to this universal story of a boy who won't let anything get him down, as long as he has the help of three special little birds. This cheerful book will bring a smile to faces of all ages--because every little thing's gonna be all right!

- This cute children's book includes all the lyrics of the original song "Three Little Birds" by Bob Marley, along with exciting new song verses

- Written by Cedella Marley, Bob Marley's daughter, who has dedicated herself to keeping her father's message and memory alive

- Illustrated by Vanessa Brantley-Newton, Every Little Thing contains beautiful, full-page designs that are as colorful and fun as the storyline

Fans of Get Up, Stand Up and One Love will also love the lyrical rhythm and the powerful message of love, peace and harmony presented in Every Little Thing.

Ages 2 - 5

Board book - 0.6" H x 7.2" L x 7.5" W (0.55 lbs) 24 pages

Hardcover - 0.3" H x 9.8" L x 10.2" W (0.9 lbs) 32 pages