---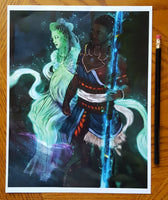 An 8"x10" high quality glossy print from The Protector by Marcus H Roberts and Maku Tellez.
"Sometimes an Avenger, Sometimes a Defender, always The Protector"
After being beaten, stripped, and cast out of his village for shaming it. Dumbara is granted his dying plea by the Earth Mother to be the eternal protector of his village.